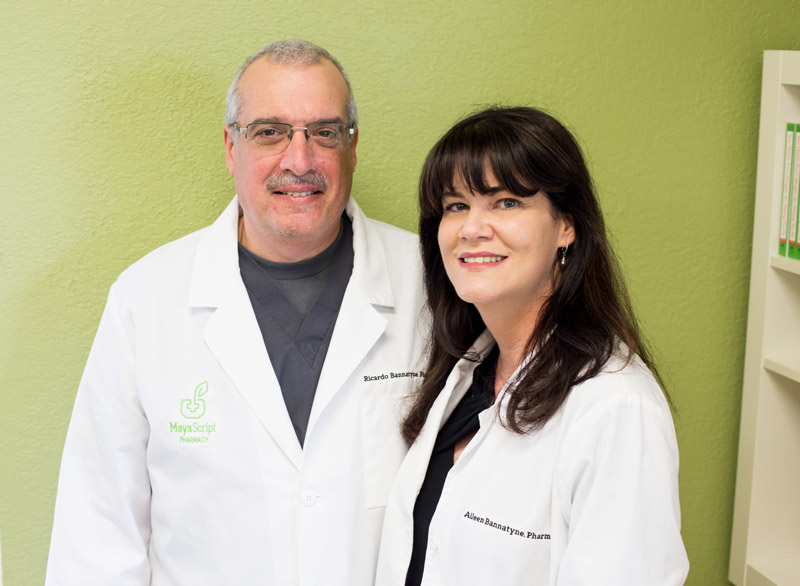 "Science is based on experiment, on a willingness to challenge old dogma, on an openness to see the universe as it really is. Accordingly, science sometimes requires courage- at the very least the courage to question the conventional wisdom." – Carl Sagan
MayaSCRIPT Compounding Pharmacy and Wellness Center is an independent pharmacy founded by Drs Ricardo and Aileen Bannatyne in Winter Park, Florida.
Dr. Ricardo Bannatyne, Pharm. D. has over 25 years of experience in hospital, home infusion, consulting, retail and compounding pharmacy. Ricardo graduated from the University of Florida with a B.S. degree in Zoology in 1988 and a Doctor of Pharmacy degree in 1990.
His primary practice area was hospital pharmacy in his early years. He was the clinical pharmacy coordinator for 2 large hospitals in the 90's. He was also one of the first pharmacists in Florida to be Board Certified in Nutritional Support in 1995. Ricardo served as an associate professor of pharmacy practice for the University of Florida, Nova Southeastern University and FAMU, where he taught students on internal medicine rotations. Ricardo also was Director of Pharmacy for Curaflex, a home infusion company and Director of Regulatory Affairs for GNC, where he was responsible for getting nutritional supplements approved internationally.
Ricardo acquired a thorough knowledge of supplement manufacturing and more stringent medication manufacturing requirements. These were required as supplements in other countries are considered drugs and must be made using much stricter guidelines.
Recently, he has worked as a clinical pharmacist for Florida Hospital and Orlando Regional Medical Center. Currently, he works as a consultant pharmacist and is also a per diem clinical pharmacist at Sebastian River Medical Center. While at SRMC, he developed protocols and clean room design to meet USP 797 standards using self-contained aseptic isolators. He is currently the consultant of record for over 50 dialysis and surgical centers across Florida.
In order to create a new type of pharmacy, Dr. Bannatyne has been attending integrative medicine seminars and meetings over the last few years to broaden the scope of his practice. He has become a Board Certified Anti-Aging Healthcare Practitioner from the American Academy of Anti-Aging Medicine. Ricardo is the pharmacy manager, owner, lead compounding pharmacist and co-founder of MayaSCRIPT Pharmacy.
Dr. Aileen Bannatyne , Pharm.D. has over 10 years of Hospital and Retail Pharmacy experience. After graduating from Nova Southeastern University in 2003, she has worked as a clinical pharmacist at Indian River Memorial Hospital and worked as a retail pharmacist at Winn Dixie and CVS pharmacy for several years.
Also having a keen interest in bioidentical hormone therapy and integrative medicine, she also became a Board Certified Anti-Aging Healthcare Practitioner from the American Academy of Anti-Aging Medicine. In preparation for a specialty compounding pharmacy, Aileen completed a fellowship course in Alternative Compounding and also completed a Non-Sterile compounding course from the University of Florida. Aileen currently works with other health care providers to provide Bioidentical Hormone consults at the pharmacy.
She is the co-founder and the Lead Clinical Pharmacist of MayaSCRIPT Pharmacy.